fbn38.jpg
Tunnelvision \ Watching the Hydroplanes [FBN 38]
Factory Benelux presents a limited edition vinyl album by Tunnelvision, the youthful Blackpool band who released cult single Watching the Hydroplanes on Factory Records in 1981. Just 500 copies of have been pressed on clear vinyl, matching the original Factory single release.
Formed in 1980, the sombre post-punk quartet were mentored by Section 25 before impressing Rob Gretton and Tony Wilson at an early New Order gig in Blackpool in September 1980. Two songs from their first demo were mixed by Martin Hannett at Britannia Row and released as a 7-inch single (Fac 39) in June 1981, sleeved by Martyn Atkins in an opulent sleeve referencing dictionaries and leather-bound books. After several more gigs with New Order and other Factory artists Tunnelvision taped a second strong demo, mixed for release by Peter Hook. However the turbulent teenage band disintegrated before a second single emerged.
Newly remastered from the original analogue reels, Watching the Hydroplanes features includes all 8 tracks from their two Cargo demos, including the Hannett mixes of the title track and Morbid Fear. The set also features Emotionless, recorded live at Bristol Trinity Hall in March 1981.
The outer sleeve is printed using silver PMS with a matt varnish. The printed inner bag features new liner notes and an attractive facsimile flyer for a gig with New Order at the Forum, London, in May 1981.
A limited edition of 50 copies is available as a bundle with a signed postcard and bonus copy of the 2003 CD EP Anyday.
LP tracklist:
A1. Watching the Hydroplanes (Hannett)
A2. Morbid Fear (Hannett)
A3. Old Comrades
A4. Glenn Miller
A5. Emotionless (live)
B1. The Man Who Would Be King (Hook)
B2. 100 Men (Hook)
B3. Guessing the Way (Hook)
B4. Whitened Sepulchre (Hook)
Available on clear vinyl album and digital download (MP3). CD available from LTM. To purchase LP please select correct shipping option and click on Add To Cart button below the cover image, or else contact FBN by email for other payment methods.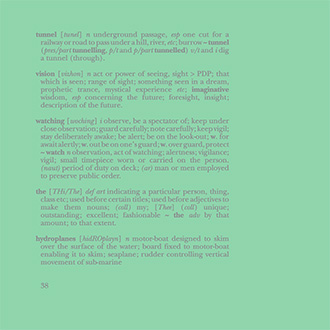 Reviews:
"Vinyl-only album Watching the Hydroplanes brings together two Cargo sessions and one live track in a sleeve modelled on the 1981 single. In effect, it's the album Tunnelvision never released. Despite the gloom imbuing the studio tracks they do not sound like Joy Division or New Order. Instead there is a kinship with Section 25, whose Paul Wiggin had mentored guitarist Andrew Leeming. In non-Factory terms, fellow musical travellers from the period include The Cure, Public Image Ltd, The Scars and The Visitors. Tunnelvision would not have sounded out of place on Pre Records. Pondered now, it's hard not to wonder whether their association with Factory acted against them" (The Arts Desk, 09/2019)
"Tunnelvision only had two years between forming and splitting up, which is a shame as they clearly had a sense of purpose and style that could have been developed further. Given more time and luck they might have come up with something to rival post punk's big guns, but alas it was not to be. This new collection may ultimately be potential that was untapped, fragments of a band still finding their feet. But at times Tunnelvision here display a rare confidence and stubborn individuality, which is precious" (Louder Than War, 08/2019)
"Given a remix from original demo tracks by Martin Hannett, Watching the Hydroplanes bears less of that producer's imprimatur than might be thought - the feeling is much more one of murk than crispness balanced with echo, say - but the song itself is a hypnotic blend of lost-somewhere vocals, steady rhythm, and a calm but persistent spindly guitar part. On demo sessions the band's performances are quite good, if also betraying signs of picking up on the work of bands like Bauhaus and the Cure (musically if not vocally), with Hook proving to be a more sympathetic producer than Hannett, perhaps unsurprisingly bringing the bass to more prominence and emphasising a strong band performance all around, even while letting the individual players stand out. The liner notes are up to the usual high standard, giving a solid history of the group while noting that the band reunited in 2003 to carry out more live and studio work" (All Music Guide, 10/2005)
"Necessary compilation of Tunnelvision's arch yet overlooked post-punk tunes for Factory, produced by Martin Hannett, mixed by Peter Hook, and including rare demos. Songs range from the more aggressive drive and almost psychedelic layers of FX in The Man Who Would Be King to the cold death rock depth charge of 100 Men, thru the bittersweet North West grip and drizzly feel of Guessing the Way, and the windswept promenade shuffle of Whitened Sepulchre" (Boomkat, 09/2019)