fbn11.jpg
Factory Benelux presents a remastered CD edition of Sextet, the second studio album by Manchester postpunk funk group A Certain Ratio, originally released by Factory Records in January 1982.
Self-produced at Revolution Studio, Sextet saw the original Ratio quintet of Donald Johnson, Jeremy Kerr, Martin Moscrop, Simon Topping and Peter Terrell joined by co-vocalist Martha 'Tili' Tilson. Written and recorded following a transformative sojourn in New York at the end of 1980, the album reflects Latin, samba and even jazz influences (eg Skipscada; Day One), while still retaining Ratio's signature brittle funk textures, heard in full effect on Lucinda, Gum and trancelike floor filler Knife Slits Water.
Newly remastered, the bonus tracks across the CD and vinyl formats include non-album single Waterline as well as dub plate Abracadubra (released as Sir Horatio), and the band's three song John Peel session from June 1981.
The CD version also includes a further Peel session from November 1982, featuring two songs never before released on record: Piu Lento, and Who's To Say. Also included are both extended 12" mixes of Knife Slits Water, together with an early demo version of percussive marathon Si Firmir O Grido.
2xCD tracklist: (FBN 11 CD)
Disc 1:
1. Lucinda
2. Crystal
3. Gum
4. Knife Slits Water
5. Skipscada
6. Day One
7. Rub Down
8. Rialto
9. Below the Canal
10. Waterline
11. Funaezekea
12. Abracadubra
13. Sommadub
Disc 2:
1. Skipscada (Peel 1981)
2. Day One (Peel 1981)
3. Knife Slits Water (Peel 1981)
4. Who's To Say? (Peel 1982)
5. Piu Lento (Peel 1982)
6. Touch (Peel 1982)
7. Si Fermir O Grido (demo)
8. Knife Slits Water (12" version)
9. Kether Hot Knives (12 version)
Double vinyl tracklist (FBN 11):
A1. Lucinda
A2. Crystal
A3. Gum
A4. Knife Slits Water
B1. Skipscada
B2. Day One
B3. Rub Down
B4. Rialto
B5. Below the Canal
C1. Waterline
C2. Funaezekea
C3. Sommadub
D1. Skipscada (Peel)
D2. Day One (Peel)
D3. Knife Slits Water (Peel)
D4. Abracadubra
Design by Ben Kelly. Cover painting by Denis King. Available on 2xCD digipack and double gatefold vinyl. To buy the CD or vinyl please select the correct shipping option and click on Add To Cart button below the cover image, or else contact FBN by email.
Donald Johnson: Sextet was the first album that we produced ourselves. Tracks like Skipscada were a real departure. That's from out first visit to New York, really - when we started bringing that Latin influence into it. We went to quite a few jazz venues, like the Village Vanguard, places like that. And also going to Central Park on a Sunday afternoon and seeing all the Cuban guys playing percussion. The next day we talked Tony Wilson into buying all the instruments we'd seen. After that, the next stage was trying to learn to play everything.
Jeremy Kerr: When we did Sextet we were so headstrong. We'd worked with Martin Hannett as producer and had loads of disagreements with him. So we just said "get us an engineer and we'll do it". It's got something that the others haven't got. It all sort of came together for us on Sextet really. I think that's why it stands out. It was one of the most enjoyable albums for us, because we were more involved in the recording of it and what went down onto tape. It was six people doing it and we were all working together. Having said that, the bass sound on the record wasn't much to do with me. I think that was the engineer's work. I remember him telling us he'd recorded with Bob Marley.
Peter Terrell: As far as the Sir Horatio single goes, we'd wanted to play dub for quite a while and it was a way of doing it without explaining it, just having fun. We were going to do more, just didn't get round to it.
Martin Moscrop: Up to this point we had always worked with Martin Hannett but we wanted to sound like we did live - a little more natural, and also capture the jazz and Latin feel we'd experienced in New York. Sextet was a bit messy because of our inexperience in producing ourselves, but that gave the album its unique feel. We were listening to so many different types of music at the time, from dub to Miles Davies to Airto, along with our own Mancunian industrial influence. As a result the album came out of the other end like something from a place that didn't exist. Manchester meets New York via Rio.
Simon Topping: I'd gone off the idea of singing by then. I was only up front because no-one else would do it, and I didn't like the sound of my own voice on record. Jez met Martha Tilson - Tili - in New York, and she was quite happy to do it. At the same time I got more and more interested in Latin percussion. Whatever new instruments we could get our hands on we'd have a go at. Maybe we couldn't play them straight away, but we could play with them. ACR was always all about experimentation.
Martha Tilson: Knife Slits Water is about sex, plain and simple - but also desire and sexual politics. The day the music was recorded I wasn't feeling well and had skipped the studio session. Jez and Pete came back to our flat with a cassette, we were all really excited by it. A day or so later, at the mixing session, the line "Who sold that knife to me?" came to me. I think I then wrote the rest of the lyrics in an hour or so. The title came later, and is sort of influenced by Roman Polanski's Knife in the Water. I think it makes most sense when a woman sings it. It's tougher then, but Donald's later version was great.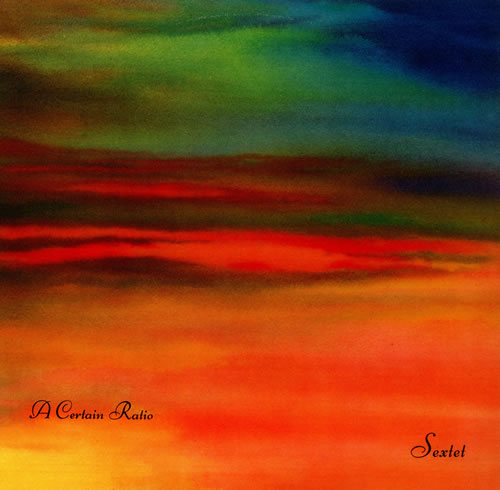 Reviews:
"Sextet is a strange, enchanting ritual of a record. A return in spirit to the loopy mysticism of the brilliant Flight 12", updating that record's concrete rhythms to the present, eerily disembodied dance form" (NME, 01/1982)
"Before ACR there was The Pop Group but, the latter apart, no-one can claim to have played an earlier role in post-punk's then seemingly improbable mutation into white funk. From 1982, Sextet offers more developed and subtlely shaded material" (Uncut, 05/2002)
"It's common these days for old bits of music to be pulled from the bottom of the river and hailed as treasure. In the case of Factory pioneers ACR, having not so much invented as re-interpreted Latin, funk and jazz in a compellingly creative way, there's no doubt that they deserve attention. The music now sounds stunningly dark, detailed and rhymically inventive" (Mojo, 05/2002)
"Second - and possibly best - album from the Mancunian punk-funkers. In many ways ACR were the bridge between Manchester's punk and house scenes" (Uncut, 09/2004)
Sextet is a really excellent record. It's a masterpiece, in fact - a mesmerizing blend of ethnic rhythms and ghostly production that really sounds like nothing else. Picture Chic covering Unknown Pleasures for a simplified starting point. But that doesn't quite capture how alien sounding it actually is - it isn't quite funk, but it is funky, full of slap bass, slashing guitar riffs and loads of percussion. It's almost like looking at third-generation Xerox copy of funk - you can certainly recognize the original artifact in there, but the toner has made it all gray, detached and distorted, leaving you with an entirely new piece of art in its stead" (Stylus, 10/2004)
"ACR were as crucial to Factory's original ethos as Joy Division - and as similarly unique and unknowable. For all the music's maximal import - a subliminely taut and yet pliable mesh of funk, Latin and jazz peppered by horns - it flows in minimal waves, its trancey apotheosis being the lengthy Knife Slits Water. Less the 'all night party' of their earliest records and more an all-night seance. Donald Johnson's drumming is especially scintilating, and new arrival Martha Tilson's adenoidal vocal add more uncanny vibes. The choicest extras are the Peel sessions, of which the otherwise unrecorded Who's To Say and Piu Lento added clavinet-enhanced notes of Mahavishnu-slanted fusion. 4 stars" (Mojo, 12/2014)
Arguably their greatest moment, Sextet presents a kaleidoscope of an album full of zest and, in places - Knife Slits Water - sheer blinding brilliance. Gone was the dour rigidity of To Each.... This was a band now capable of truly matching the complexities of their own musical ambition. Not since PiL's dominant Metal Box had a band so seamlessly traversed such an unexpectedly broad musical landscape. While To Each... had appeared as the ultimate Factory artefact, Sextet neither sounded, nor looked remotely like any other Factory record. The vividly colourful sleeve - created in part by Hacienda designer Ben Kelly - promised a dense exotica which was answered the moment the opening Lucinda took Ratio's crisp funk base and literally tugged it into new territories. Thirteen tracks later, as the needle lifted, the listener experienced extraordinary flurries of world beats, samba, flurries of jazz and even scat singing on the dizzying Skipscada, hypnotic trance and several stabs at music that wouldn't generally be heard in Britain until the close of the decade. That's how far ahead of the game Ratio were" (The Quietus, 09/2014)
"A Certain Ratio, contemporaries of Joy Division, were the other extra-hip Manchester band on Factory label. Unlike their colleagues, they actually made it to New York during 1980 - a transformative experience, as they plunged into the city's musical melting pot, eventually absorbing Latin/Nuyorican funk (check the slap bass on Martha Tilson-cooed pop nugget Lucinda), abstract jazz and Brazilian percussion (see the whistle-crazy Skipscada), into their once pallid Lancastrian sound. Sextet's unrivalled triumph was to incorporate all these things, while maintaining a murky, super-weird post-punk edge, and even pushing it with synth drones and electronic drums. A bonus disc of Peel sessions and 12-inch mixes further spotlight the band's exploratory joy. 4 stars" (Uncut, 12/2014)
"After singer Martha Tilson joined up to give trumpeter Simon Topping a break from his reluctant position as frontman, A Certain Ratio's six-piece lineup recorded and self-produced their third album, released at the beginning of 1982. Thirty-two years later, Sextet still sounds like no other record: it's either that era's creepiest, boggiest dance album or its funkiest smear of brittle art-noise... Kerr and Johnson do their damnedest to play funk as hard as the Sugar Hill Records house band - hitting precise, clipped grooves while their bandmates run interference with haphazardly flung splashes of atonal piano and dissonant horn bleats... This new reissue appends a 13-track bonus disc to the original album. Besides the Knife Slits Water 12-inch (and its B-side, a near-instrumental Sugar Hill pastiche with the Kabbalistic title Kether Hot Knives), it includes the Waterline single that introduced Tilson when it immediately preceded Sextet, a couple of meandering dub experiments the band originally released under the name Sir Horatio, and BBC radio sessions from 1981 and 1982. They all illuminate the band's curious fascinations and tensions in that period, but Sextet itself-a gorgeous mess, slumped against the back wall of the best dance club in town-is no less mysterious for the illumination (Pitchfork, 11/2014)
"A long-overdue and near-essential document of the moment Factory's funk outfit found their feet, having just returned to Manchester from a fact-finding (and beat-finding) mission to New York at the very start of the 80s. This two disc CD and vinyl edition is exhaustive, pulling in non-album single Waterline, dub track Abracadubra, two John Peel sessions (recorded either side of the album's release), and both long sides of the thunderous Knife Slits Water 12" single. File under Funk With Punk Attitude and alongside the classic works of Jah Wobble, Pigbag et al" (Classic Pop, 12/2014)