fbn47.jpg
Marcel King \ Reach For Love [FBN 47]
Factory Benelux presents a limited edition 180gm vinyl singles collection by Marcel King, best known for his sparkling 1984 dance single 'Reach For Love' on Factory Records, as well as the youthful vocalist on 'Sad Sweet Dreamer' by Sweet Sensation, a chart topping UK number one back in 1974.
Limited to just 1000 copies, Reach For Love: Singles 1983-88 features both sides of the infectious electro single co-produced by Bernard Sumner (New Order) and Donald Johnson (A Certain Ratio) and released as Fac 92 in April 1984, as well as a previously unreleased demo for 'Love To Shine', the planned follow-up single on Factory produced by Tony Henry of 52nd Street.
The album also features 'Hollywood Nights', a later single cut by Marcel with Gee Bello of Light of the World, along with a rare US remix of 'Reach For Love' by noted New York DJ Mark Kamins, and extended dub and instrumental versions.
King was invited to record for Factory in 1983 by Joy Division/New Order manager Rob Gretton, a devotee of soul and black music, and prime mover behind the famous Hacienda nightclub. 'Rob was a massive fan of Marcel and thought he was as good a singer as Michael Jackson,' explains Tony Henry. Not just a gifted and plaintive soul singer, King also wrote both sides of his Factory single, 'Reach For Love' and 'Keep On Dancin', both paeans to perseverance and enduring Hacienda classics.
A classic video clip for the single, filmed at The Hacienda with local breakdancing crews, is available on YouTube. Alas 'Reach For Love' was destined to remain an underground hit rather than a chart topper. Rob Gretton blamed Factory's disdain for conventional promotion. 'At Factory we still basically believe that you don't have to hype a group in any way, and that a record should success on its own. But it's getting increasingly difficult. We put a record out by Marcel King and it's hardly sold at all. The charts are wide open to hyping and marketing.'
Adds Bernard Sumner: 'Marcel was an incredibly talented guy, but a tragic figure. He used to sleep in a car in Moss Side and was a bad heroin addict.' A troubled but pioneering artist, Marcel sadly passed away in 1995 after suffering a brain haemorrhage.
1000 copies only of FBN 47 will be available on Record Store Day on 22 April 2023, pressed on 180gm black vinyl. The sleeve is based on original artwork for the Factory single and also includes a press interview with Marcel from 1984.
LP tracklist:
A1. Reach For Love
A2. Hollywood Nights
A3. Love To Shine
A4. Keep On Dancin
B1. Reach For Love (Mark Kamins NY Remix)
B2. Hollywood Nights (Instrumental)
B3. Reach For Love (Dub)
Available on vinyl album and digital (MP3 or FLAC). To order vinyl please first select correct shipping option (UK, Europe or Rest of World) and then click on Add To Cart button below cover image. Digital copies are delivered to customers via email link.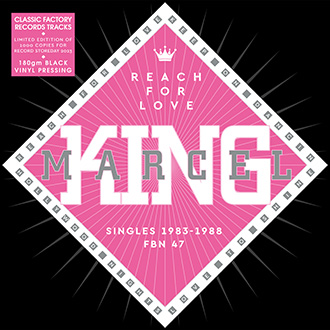 Reviews:
"Sift through Factory's catalogue numbers and you'll find Fac 92, a Marcel King single called Reach For Love that's just one number below Fac 93, New Order's Confusion. Barely a cigarette paper to separate them. Recorded with Bernard Sumner and Donald Johnson, the track bombed commercially, despite King's soaring falsetto vocals, liquid bass and Factory-branded guitar jingles. As Manchester sensations go, King sadly left behind a limited number of recordings when he died in 1995, which explains the remixes dominating the disc's second half. But that doesn't stop him being a singular talent, and Factory's most overlooked artist." (Electronic Sound, 04/2023)